Rassemblement contre Manuel Valls, Trudeau, Couillard
Submitted by

MattLeGeek

on Tue, 10/11/2016 - 22:24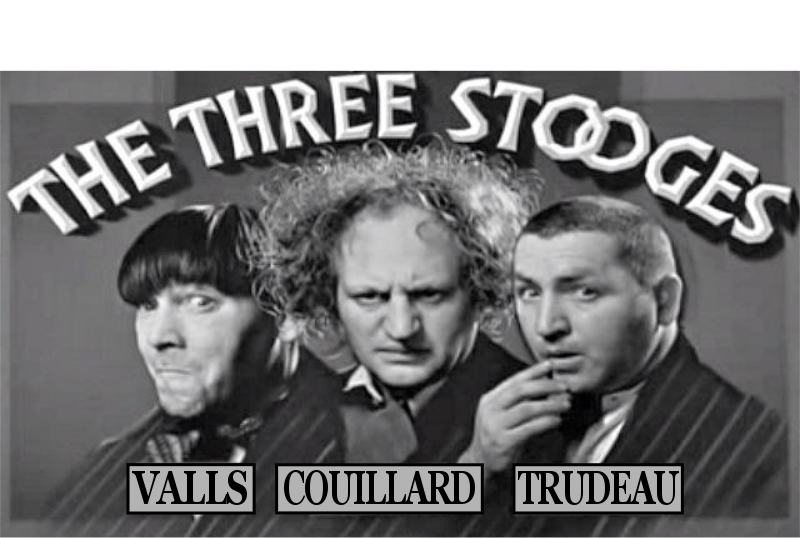 (English below)
RASSEMBLEMENT CONTRE MANUEL VALLS, JUSTIN TRUDEAU, ET PHILIPPE COUILLARD
Ce jeudi, entre midi et 14h, le premier ministre français, Manuel Valls, sera à Montréal pour s'entretenir avec Justin Trudeau et Philippe Couillard sur les « occasions d'affaires découlant de la mise en œuvre de l'Accord économique et commercial global (AECG) entre le Canada et l'Union européenne ». Ce sont donc non pas un, mais trois premiers ministres, trois chefs impérialistes, qui se réuniront ici même, à Montréal, en une seule et grande mise en scène de fraternité politique et de collaboration économique entre les classes dominantes des pays concernés. À cela s'ajoute une vingtaine de délégations de multinationales canadiennes et françaises qui commanditent l'événement, organisé par nul autre que la Chambre de commerce du Montréal métropolitain.
Rappelons que Manuel Valls, membre du Parti soi-disant « socialiste » (PS), est l'un des architectes principaux de la fameuse Loi Travail, une attaque d'ampleur contre les intérêts de la classe ouvrière en France. En effet, cette loi, adoptée sous baîllon le 8 août dernier, en dépit d'un mouvement de protestation massif qui a ébranlé la France pendant 6 mois, constitue une offensive générale contre les travailleurs ainsi qu'un pas de plus dans le démantèlement du Code du Travail français, arraché à la bourgeoisie au fil d'un siècle de luttes ouvrières. Cette réforme patronale fait écho à toutes les mesures qui nous sont imposées au Canada et au Québec visant à précariser et à pressuriser encore plus les prolétaires pour permettre à la bourgeoisie de sauver son profit en temps de crise du capitalisme.
Démontrons notre solidarité avec les travailleurs et travailleuses de France, ainsi qu'avec nos camarades en lutte malgré l'état d'urgence et la répression brutale de l'État bourgeois français. Inspirons-nous, dans notre résistance ici, de leur courage, de leur détermination, et de leur expérience de combat. Réservons un accueil retentissant à Manuel Valls et à ses homologues canadiens et québécois. L'heure est à nous regrouper, bien sûr pour défendre notre peau, mais surtout pour construire un camp révolutionnaire à la hauteur de la violence qui s'abat sur nous, pour bâtir un avenir prolétarien libéré de l'exploitation.
LE CAPITAL NOUS FAIT LA GUERRE ! GUERRE AU CAPITAL !
NOUS NE PAYERONS PAS LEUR CRISE !
TRAVAILLEUSES ET TRAVAILLEURS DE TOUS LES PAYS, UNISSEZ-VOUS !
---
Le lien vers l'événement contre lequel se tient ce rassemblement : http://www.ccmm.qc.ca/fr/evenements-reseautage/r_li_couillard_valls_trudeau_1016/
---
Cet événement est organisé par le Mouvement révolutionnaire ouvrier (MRO) et appuyé par la CLAC. Le MRO a été mis sur pied par le Parti communiste révolutionnaire (PCR) pour rassembler des travailleurs et travailleuses et construire dans les usines, sur les chantiers, dans les entrepôts, commerces et autres milieux de travail, une organisation large et solidaire de combat contre l'exploitation capitaliste.
Événement facebook du MRO : https://www.facebook.com/events/558657270997662/
Site web du MRO : http://mro.pcr-rcp.ca
Site web du PCR : http://www.pcr-rcp.ca/fr/category/programme
---
RALLY AGAINST MANUEL VALLS, JUSTIN TRUDEAU, AND PHILIPPE COUILLARD
This Thursday, between noon and 2PM, the French prime minister Manuel Valls will be in Montreal to meet with Justin Trudeau and Philippe Couillard and "discuss business opportunities arising from the implementation of the Comprehensive Economic and Trade Agreement (CETA) between Canada and the European Union." This is therefore not only one, but three prime ministers, three imperialist leaders, who will meet here in Montreal, in one great staging of political fraternity and economic collaboration between the ruling classes of the concerned countries.
Lest we forget, Manuel Valls of the so-called "Socialist" Party, is one of the main architects of the famous "Loi Travail" (Labour Bill), a widescale attack on the interests of the working class in France. Indeed, this bill, which passed without a vote on August 8th despite a massive protest movement that shook France for six months, represents a general offensive against workers and a further step in the dismantling of the Labour Code and therefore of the gains of a hundred years of workers' struggles. This bosses' reform can be compared to all of the measures that are being imposed upon us throughout Canada and Quebec ; They all aim to further impoverish proletarians, and to make the bourgeoisie richer by saving its profits in times of capitalist crisis.
Let us show our solidarity with the working men and women of France, and as well with our comrades struggling despite the State of Emergency and the brutal repression of the bourgeois French State. Let us be inspired in our resistance by their courage, determination and fighting experience. Let us prepare a resounding protest for Manuel Valls and his Canadian and Quebecois counterparts. It is time for us to regroup, to save our own skin as workers, but especially to build a revolutionary camp capable of reciprocating the level of violence that we suffer − to build a proletarian future free of exploitation.
CAPITAL'S WAGING WAR ON US! WAGE WAR ON CAPITAL!
WE WON'T PAY FOR THEIR CRISIS!
WORKERS OF ALL LANDS UNITE!
---
The link to the event against which this rally will protest: http://www.btmm.qc.ca/en/networkingevent/r_il_couillard_valls_trudeau_1016/
---
This event is organized by the Revolutionary Workers' Movement (RWM) and supported by the CLAC. The RWM is an initiative of the Revolutionary Communist Party (RCP) and is composed of workers who unite their efforts and who struggle together to build a powerful fighting organisation against capitalism in factories, worksites, warehouses, businesses and other workplaces where our class is exploited.
Facebook event of the RWM: https://www.facebook.com/events/558657270997662/
Website of the RWM: http://mro.pcr-rcp.ca
Website of the RCP: http://www.pcr-rcp.ca/en/archives/category/programme