Marche unitaire contre les déportations / bienvenue aux migrants !
Submitted by

MattLeGeek

on Mon, 10/05/2015 - 21:13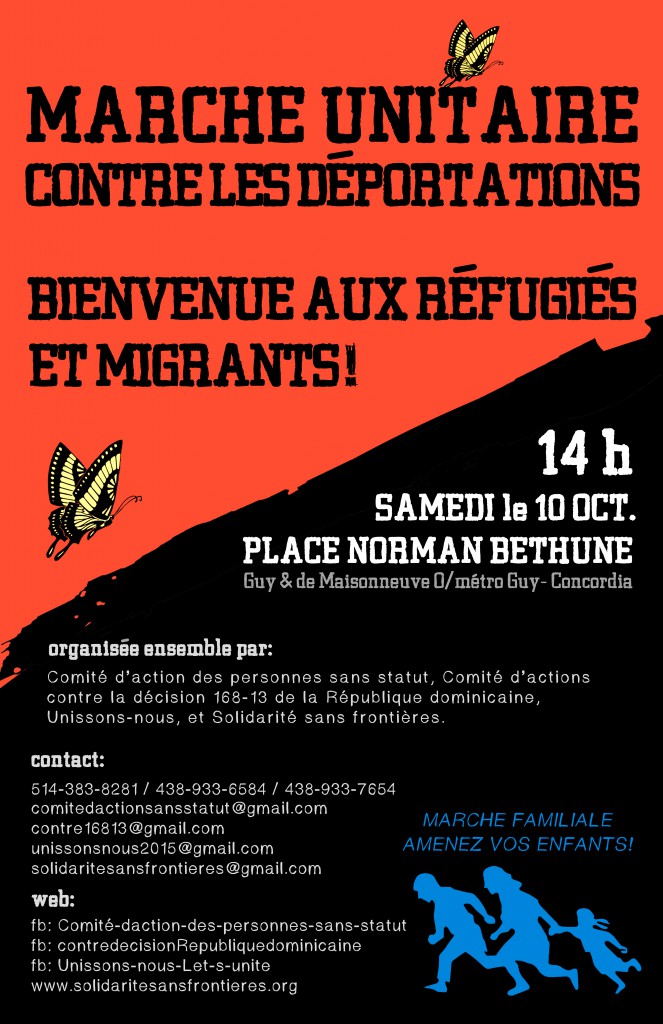 english version below
-----------------------------
SAMEDI 10 OCTOBRE, 14 h
Rassemblement : Place Norman Bethune
(coin Guy et de Maisonneuve Ouest, métro Guy-Concordia)
carte : http://bit.ly/1PKJ8VS
La situation des migrant.e.s et réfugié.e.s dans le monde entier soulève aujourd'hui de très nombreuses questions au sein de la population canadienne. En Europe, aux États-Unis, au Mexique et dans son voisinage, ce problème est devenu une catastrophe humanitaire. En République dominicaine, des personnes d'origine haïtienne sont attaquées et menacées de déportation. Ici au Canada, des personnes d'origine haïtienne et zimbabwéenne sont menacées de déportation.
Arrêtons les déportations !
Accueillons les migrants et réfugiés !
Un statut pour tous et toutes !
Venez en grand nombre apporter votre soutien à cette cause qui est aussi la vôtre puisque nous sommes tous des migrants de près ou de loin.
Organisé ensemble par :
* Le Comité d'action des personnes sans statut
www.facebook.com/pages/Comité-daction-des-personnes-sans-statut/631945366949579
* Le Comité d'actions contre la décision 168-13 de la République dominicaine
www.facebook.com/contredecisionRepubliquedominicaine
* Unissons-nous
www.facebook.com/pages/Unissons-nous-Let-s-unite/460116220823550
* Solidarité sans frontières
www.solidaritesansfrontieres.org
Renseignements :
438-933-7654
solidaritesansfrontieres@gmail.com
-------------------------
UNITY MARCH AGAINST DEPORTATIONS
REFUGEES WELCOME!
SATURDAY, OCTOBER 10, 2pm
Starting Point: Norman Bethune Square
(corner of Guy and De Maisonneuve West, métro Guy-Concordia)
map: http://bit.ly/1PKJ8VS
The conditions of migrants and refugees worldwide have captured public attention. In Europe, the USA, Mexico and elsewhere, we witness a humanitarian disaster. In the Dominican Republic, people of Haitian origin are attacked and threatened with deportation. In Canada, non-status Haitians and Zimbabweans are also facing forced removal.
Stop deportations!
Welcome all migrants and refugees!
Status for All!
Join us in large numbers to show your support for this important cause which is everyone's issue since we are all migrants, whether from nearby or from far.
Organized together by:
* Le Comité d'action des personnes sans statut 
www.facebook.com/pages/Comité-daction-des-personnes-sans-statut/631945366949579
* Le Comité d'actions contre la décision 168-13 de la République dominicaine
www.facebook.com/contredecisionRepubliquedominicaine
* Unissons-nous – Let's unite 
www.facebook.com/pages/Unissons-nous-Let-s-unite/460116220823550
* Solidarité sans frontières / Solidarity Across Borders
www.solidarityacrossborders.org
Info:
tel: 438-933-7654